BOLD. CREATIVE. CONTEMPORARY.
We're on a mission to push the boundaries and create the space of your dreams. Whatever your vision, our personal, bespoke approach will bring it to life.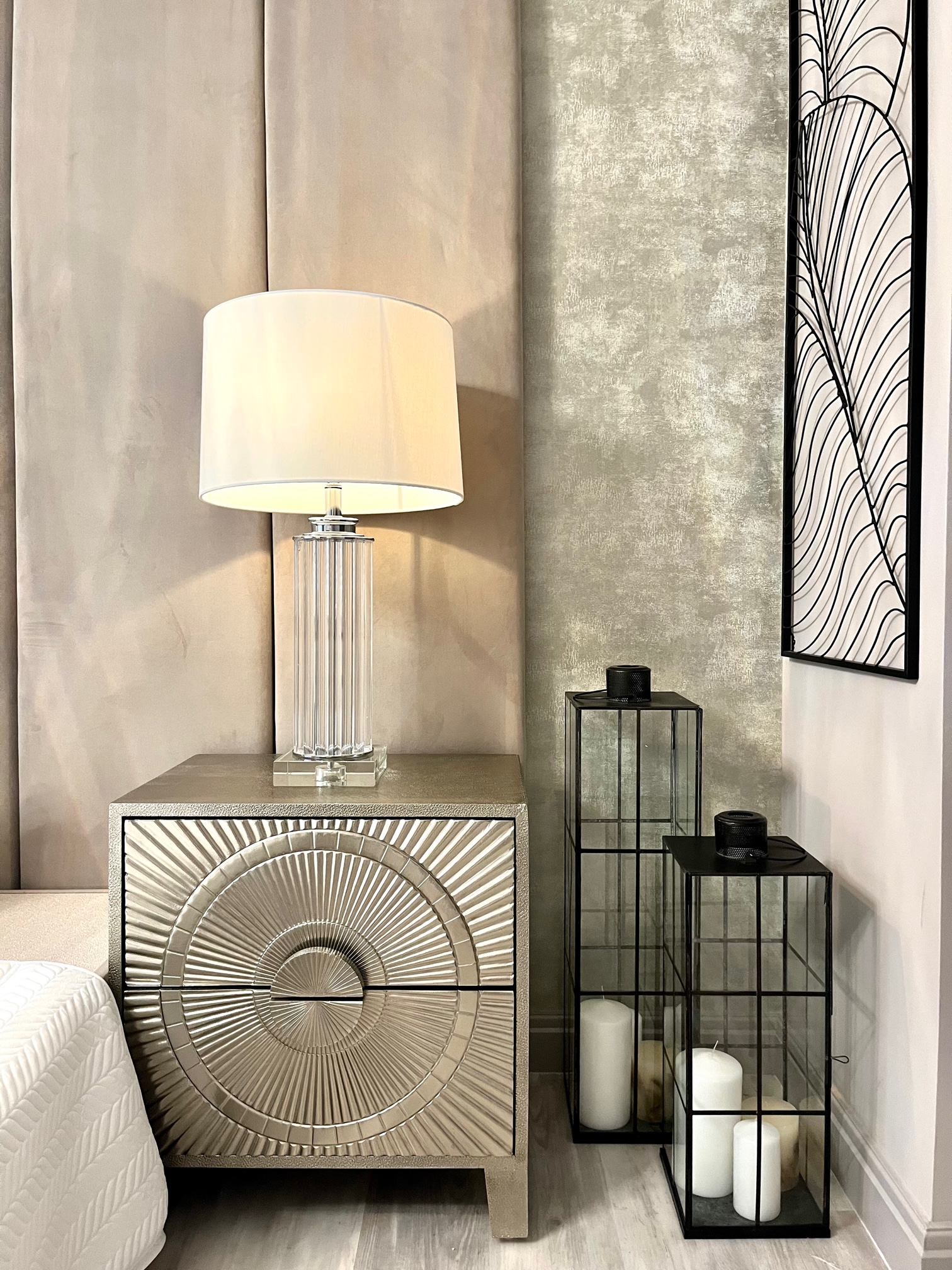 It's time to put your stamp on your space
Your home is a blank canvas, and you have the opportunity to put your twist on it to make it feel truly unique to you. That's where we come in. We will take you on a design journey and get to know you along the way. We will get an understanding of what you truly want and we will bring it to life in a space that works for you.
Whether you're looking for bespoke blinds and curtains to transform your home, or a statement interior redesign your home has unlimited potential.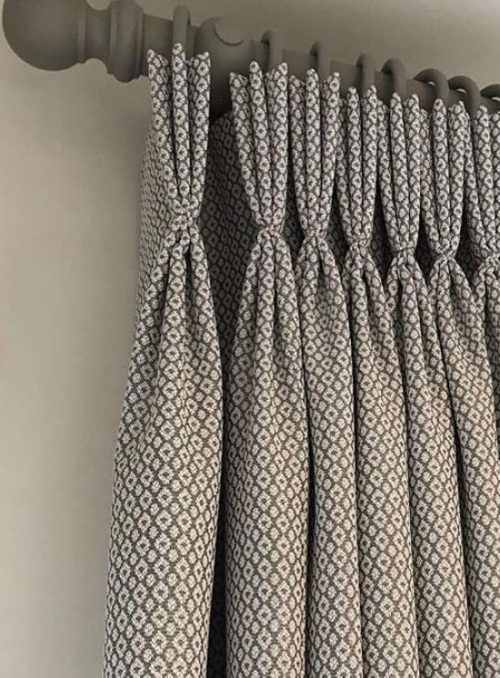 From initial consultation to detailed measuring, installation and the final details we're with you for every step of the process, to ensure you get the house you've always wanted.
You can get a taste for our vast range of designer brands and unique products to the creative design solutions we offer right here, or visit our Ampthill Showroom where our team can take you through the collections in person.
We pride ourselves on offering honest and professional advice to ensure we create inspiring spaces that produce a wow moment every time you walk into the room.
And we would love to help you make that happen.
From interior design, to finishing touches like blinds, shutters, curtains and furnishings that breathe new life into your space, take a look below at some of our latest work.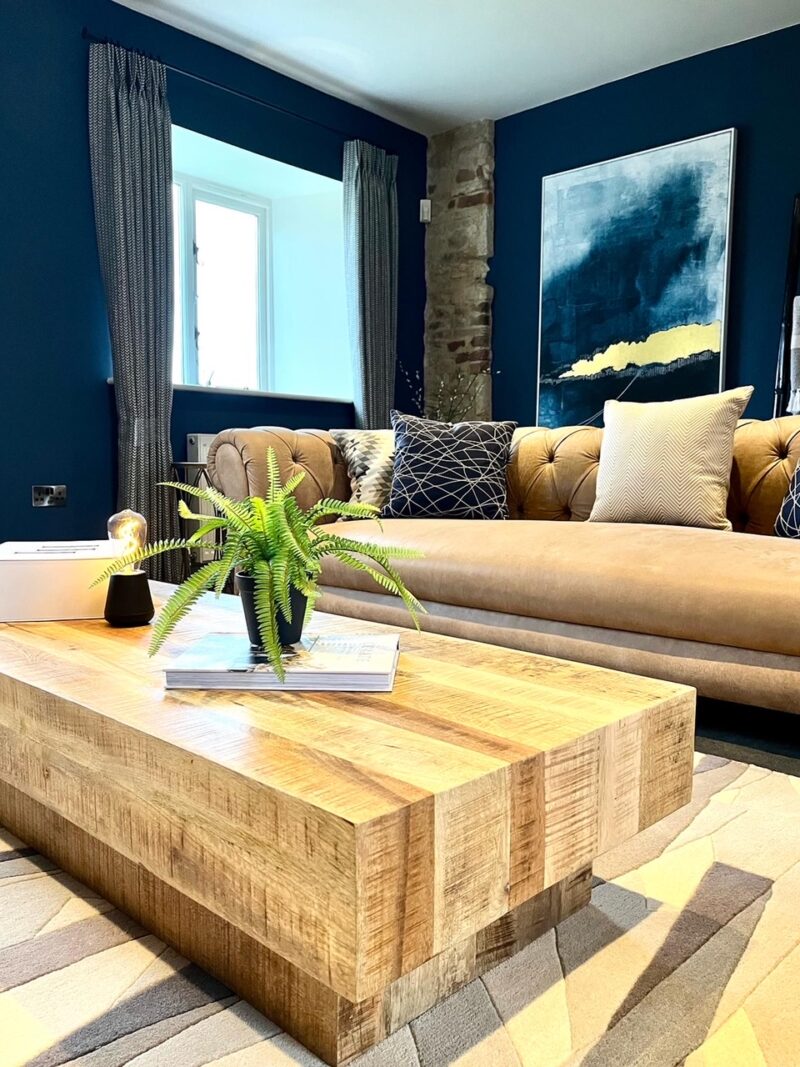 Project Peterborough
We dressed out this beautiful stone barn lounge with new furniture, lighting, rugs, curtains and accessories.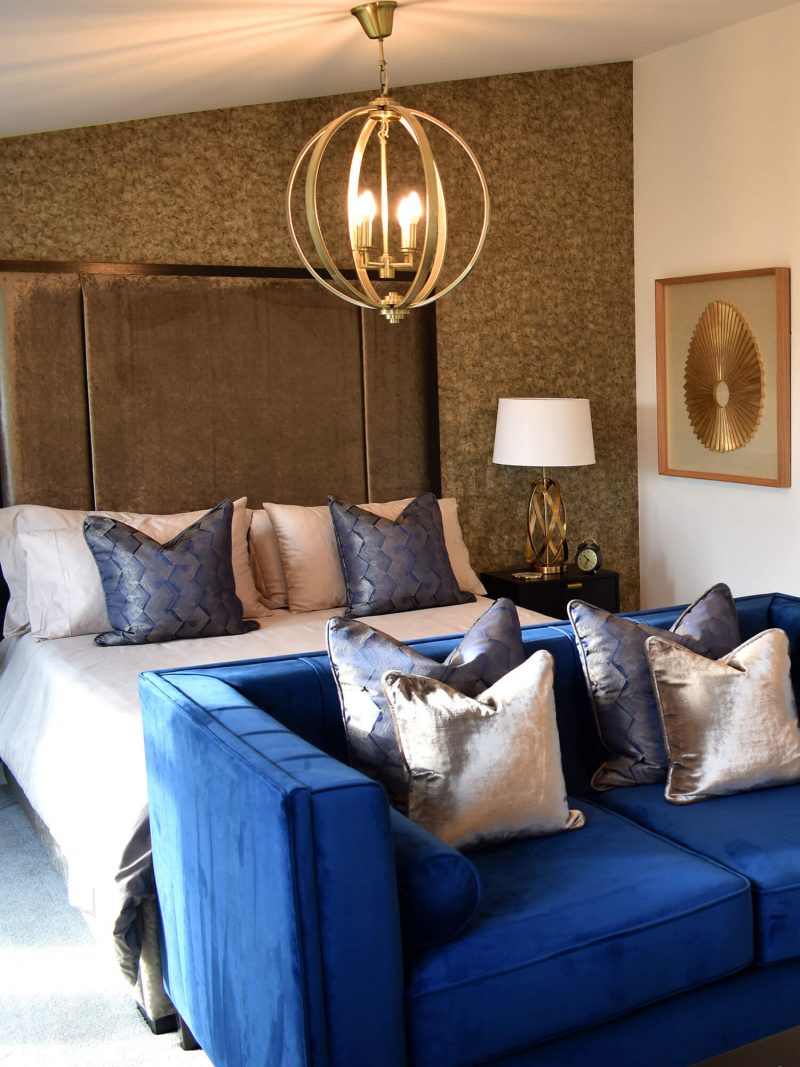 Hotel Suite style bedroom – Upper Dean
The Brief was to create a luxury hotel bedroom suite and we wasted no time.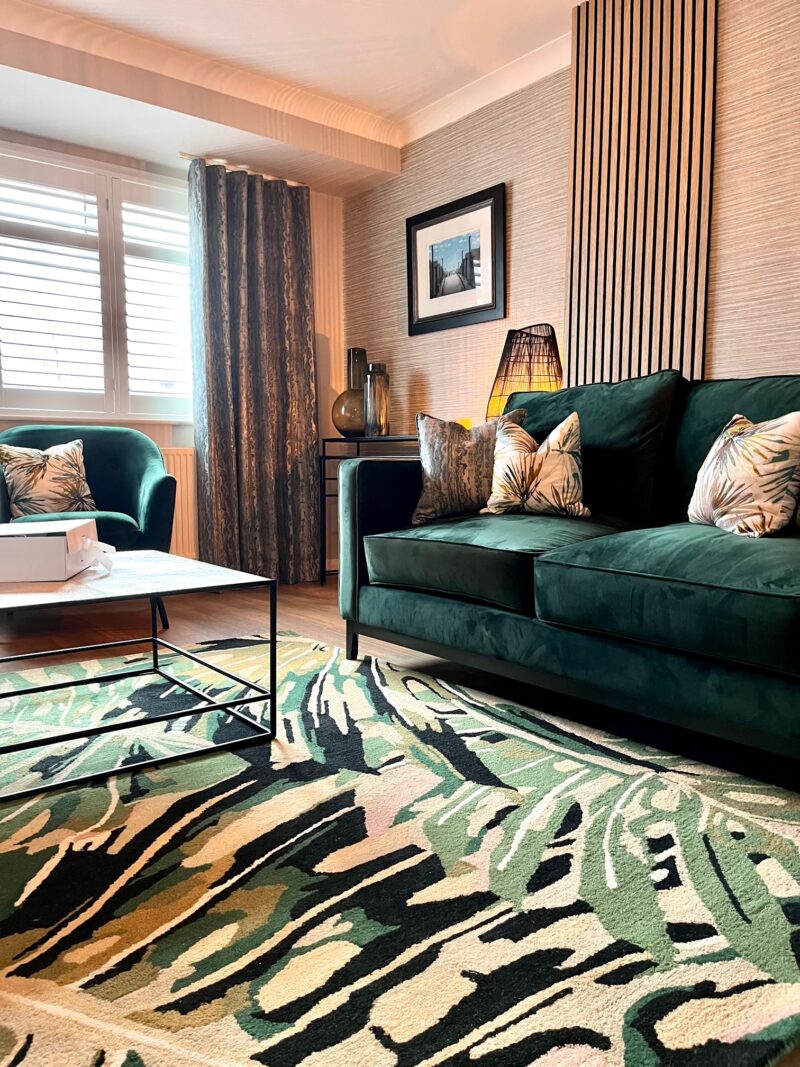 Project Grange Lane
Our brief was to create a cosy vibrant family friendly Lounge.
See our full project transformations on our Gallery Page.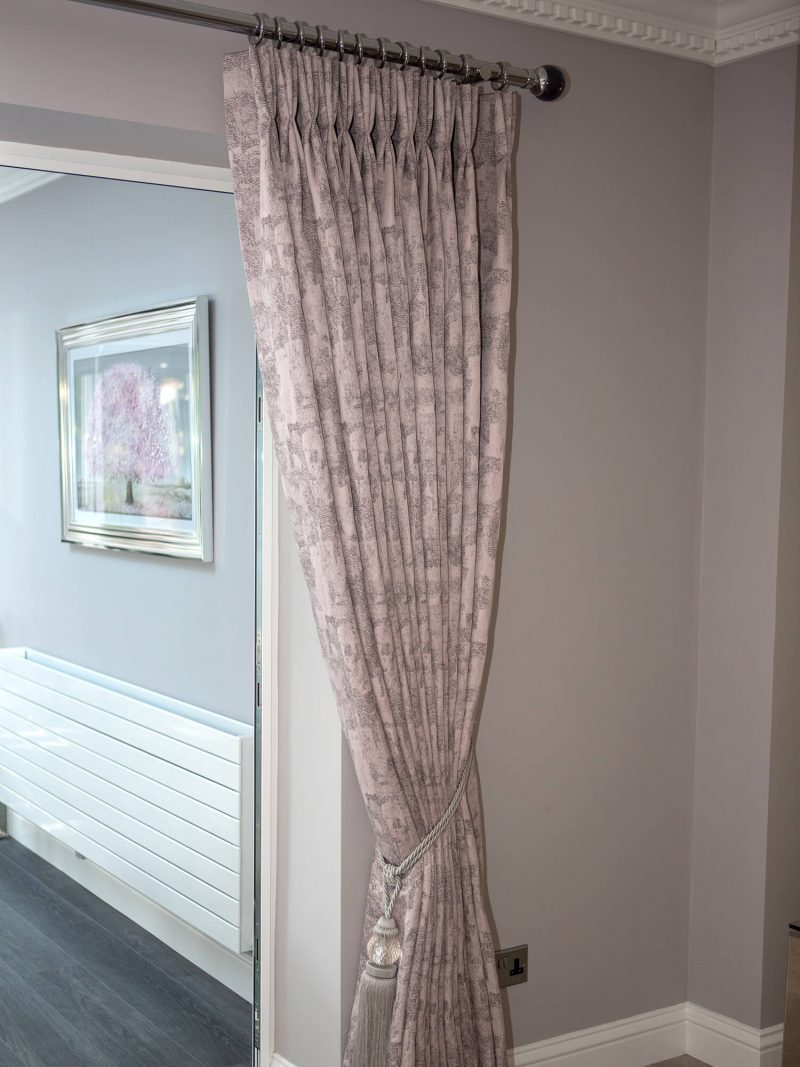 Pinch Pleat Interlined curtains
We made these beatiful blush pink curtains with a padded interlining for warmth and to create a full appearance for this wide window. We dressed into beatiful glass tie backs and suspended from a chunky pole with smoked glass finials.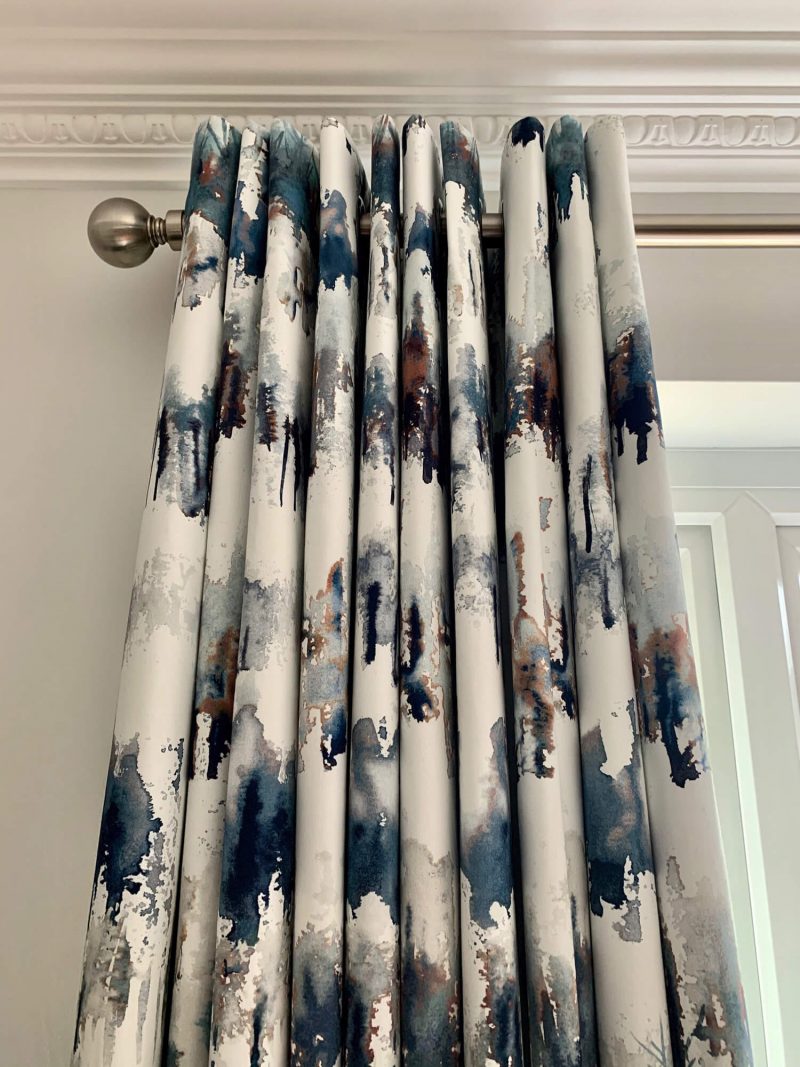 Eyelet Curtains in Norland Indigo
We supplied and dressed these blackout lined curtains complete with Satin Silver eyelets and matching pole. The fabric by the brand Villa Nova is called Norland and has a really contempary forrest vibe combining shades of blue and subtle bronze.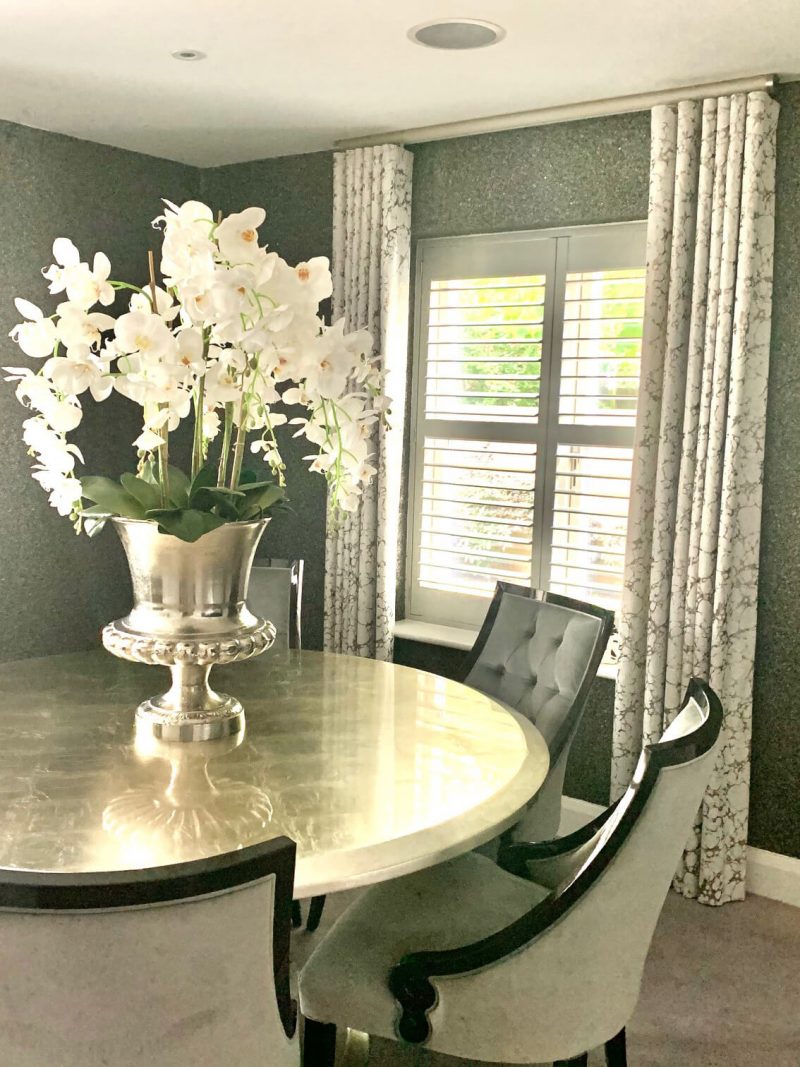 Wave Curtains on Fabric wrapped pole
These curtains owe a lot to the fabric brand Black Edition and are the epitome of fine furnishings. Hand stitched in our workroom and made with wave heading for a minimal look. We suspended them from our stunning fabric wrapped poles for the ultimate window dressing. We hung the wallpaper first, thanks to one of our favourite brands Omexco for making such beautiful wallcoverings.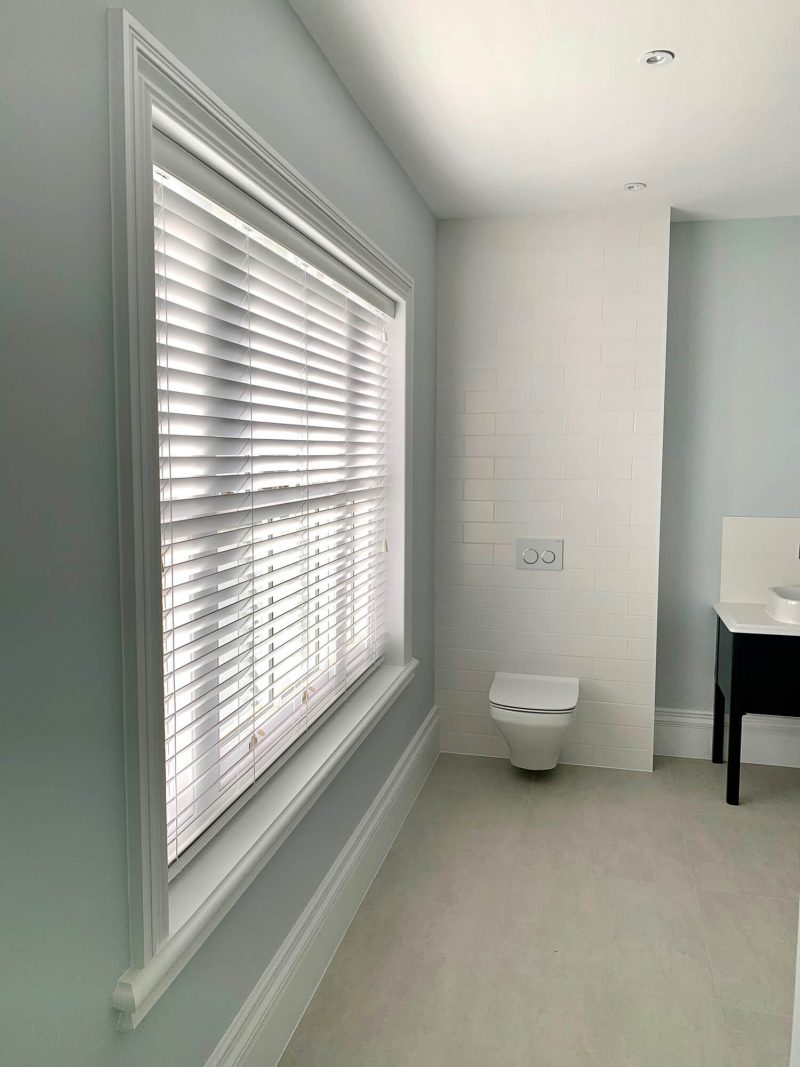 Pure White Faux Wood Venetian Blind
Here we installed our 50mm Pure White Venetian blinds. Our client chose the Faux wood option, which is almost identical to our real wood, just with a moisture resistant and wipeable finish often preferred for Kitchen's and bathrooms.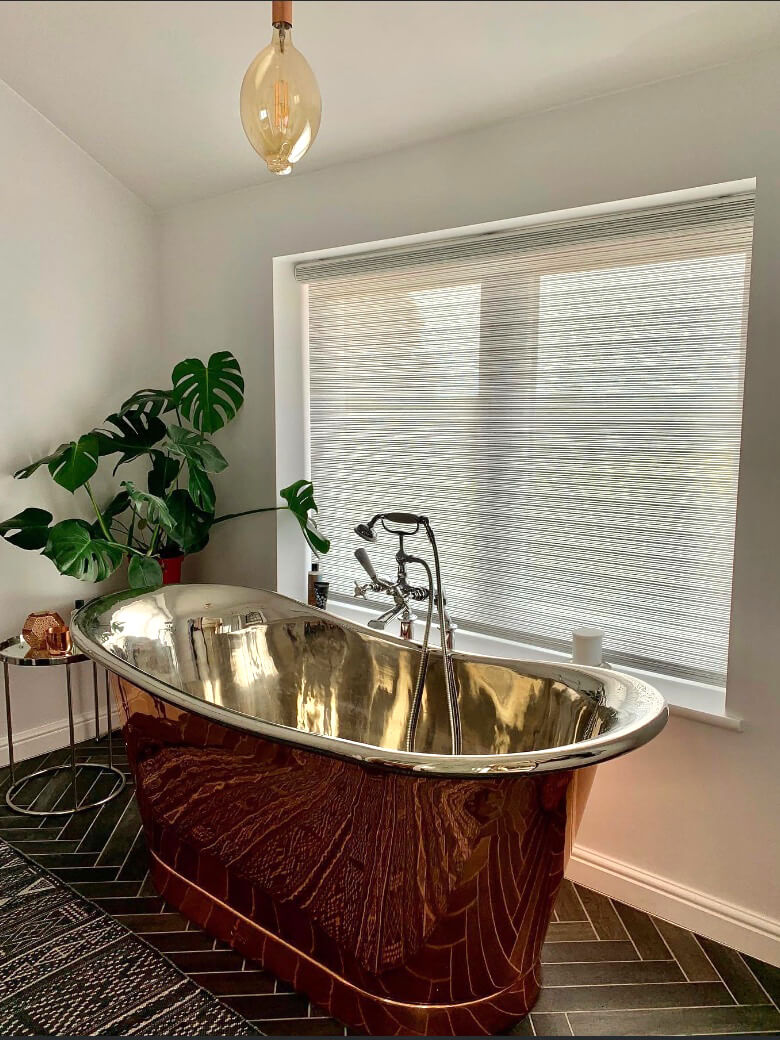 Privacy Roller Blind
We installed a textured privacy roller blind to complete this bathroom. The client wanted something that when not in use could be really discreet so we included a cassette to conceal the roll and brackets. When in use, the privacy fabric cleverly allows light o filter through whilst providing privacy.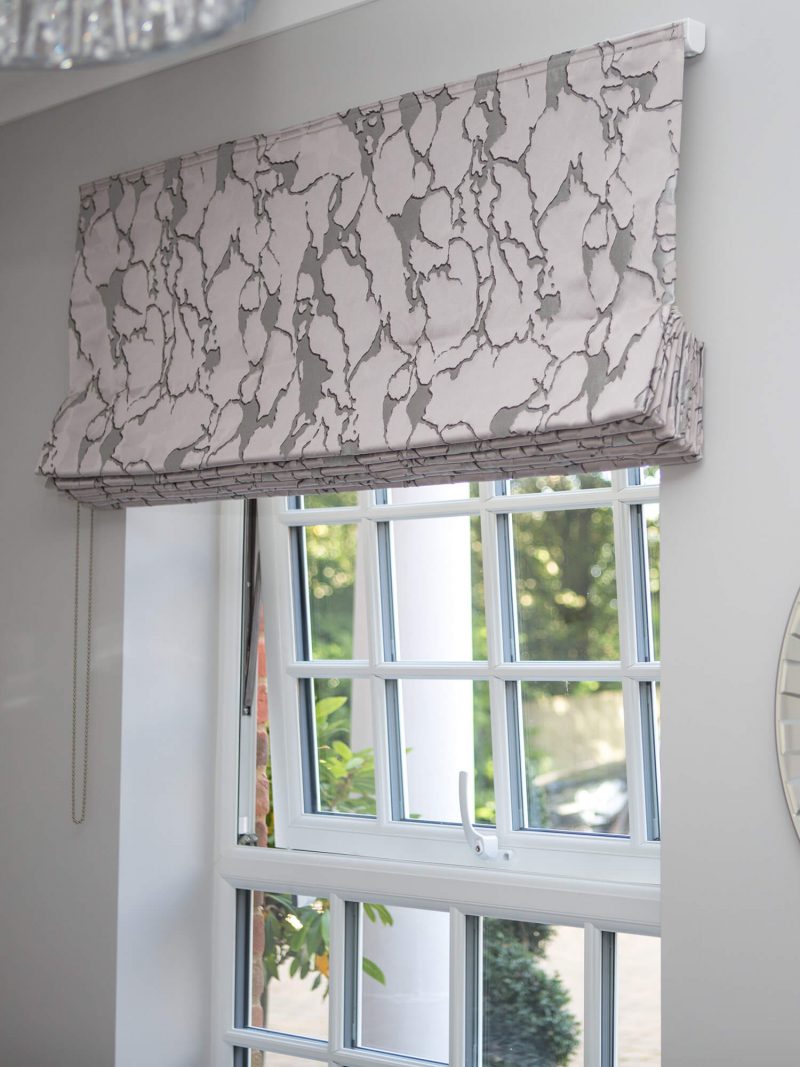 Roman Blind
We measured, made and installed this roman blind to our client's hall. This stunning Blush pink Marble effect fabric is by Today Interiors. We interlined the blind so the folds were padded and full.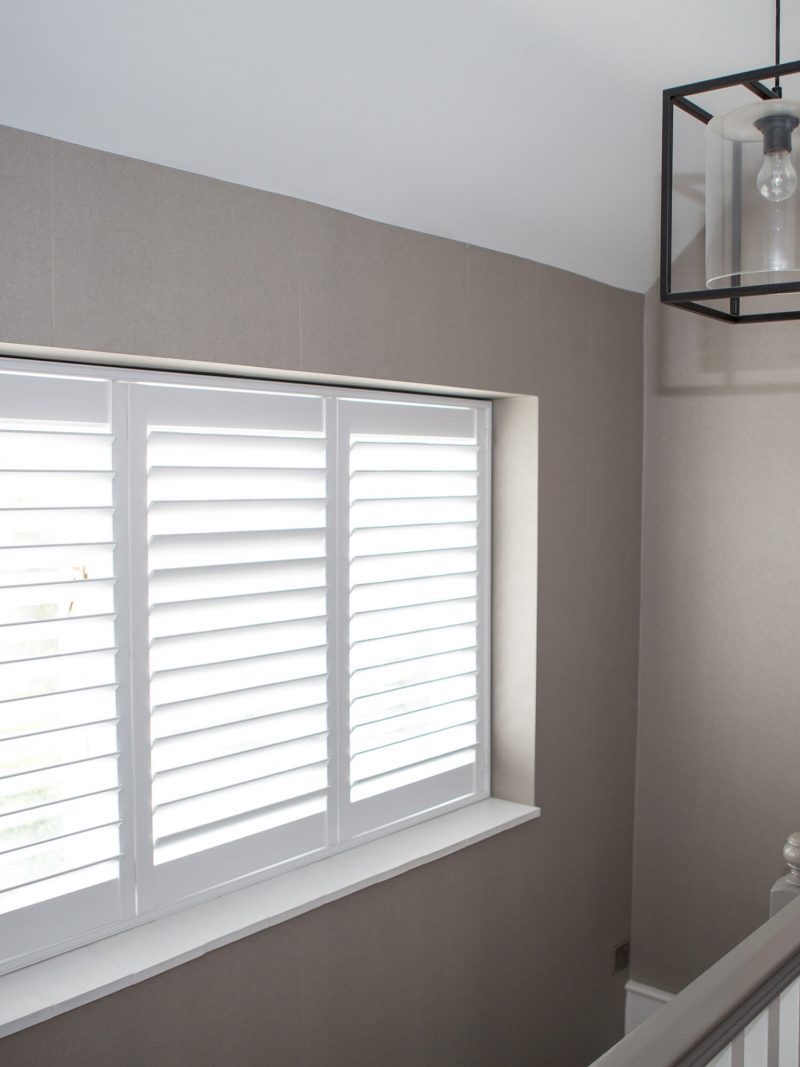 Landing Shutters
We designed and decorated this entire property, part of which alongside wallpapering this landing, dressing with Light shade and artwork, we finished off with supplying and installing this minimal Pure White shutter with large slats and hidden tilt mechanism for a sleek finish.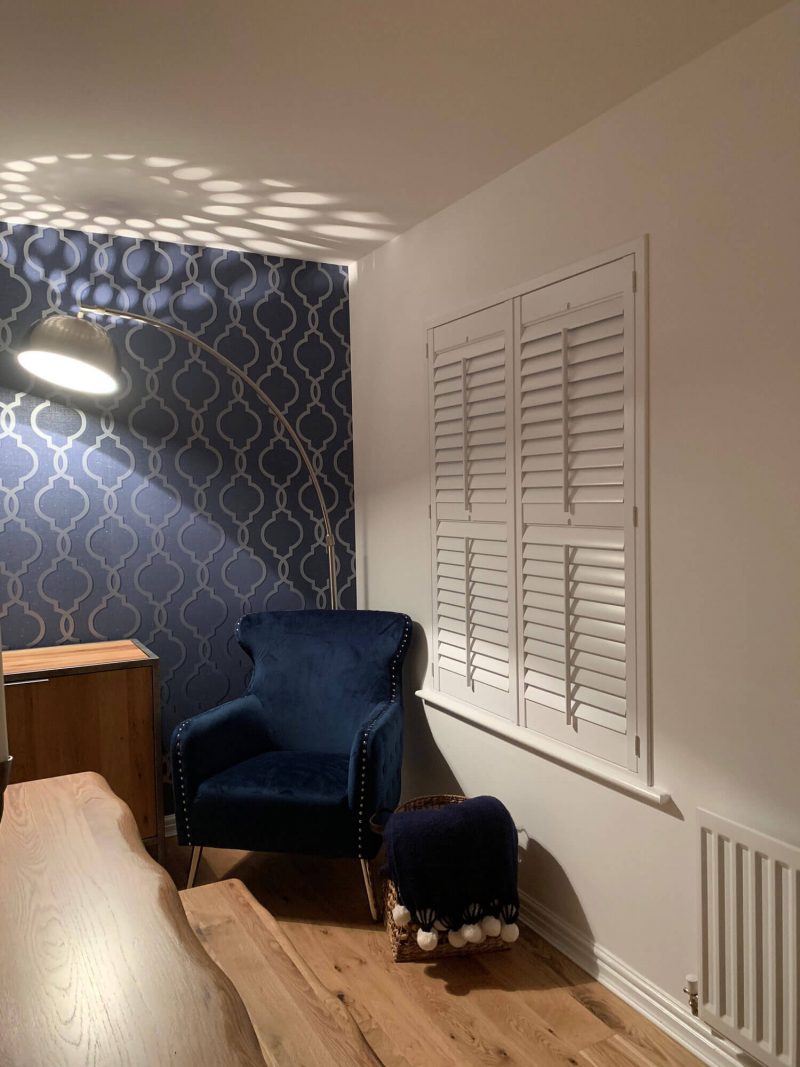 Dining room shutters with Architrave Frames
We measured, supplied and installed Pure White Wood shutters with Architrave frames to complete this stunning Dining Room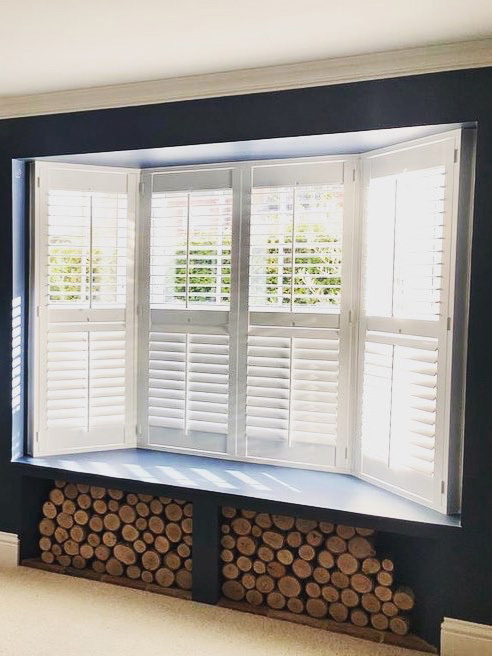 Bay Window shutters
Pure White Wooden shutters measured and installed to this lovely large bay window. Client went for central tilt rods for the authentic shutter, complete with a horizontal mid rail which not only supports the tall panels but adds the versatile option to operate the top and bottom slats independently.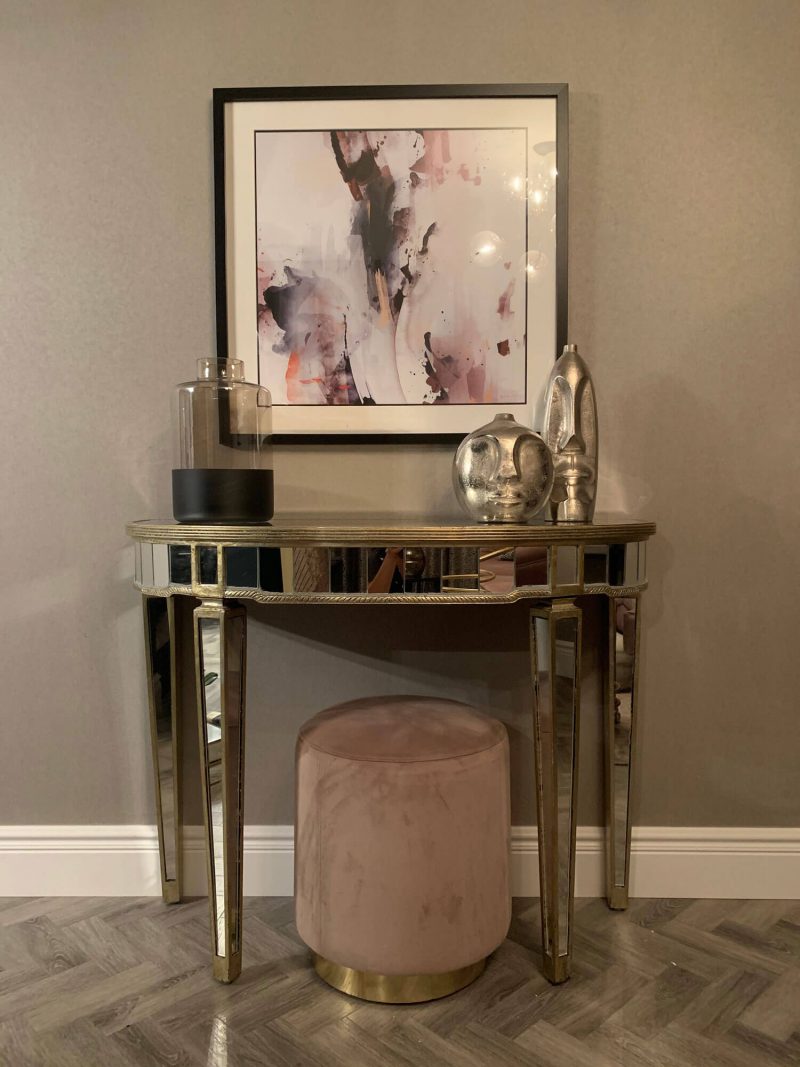 Feature Wall
We were invited to add a feature to this walkway into our clients Lounge. We placed a curved mirrored console table and dressed it out with hard and soft accessories complete with Artwork.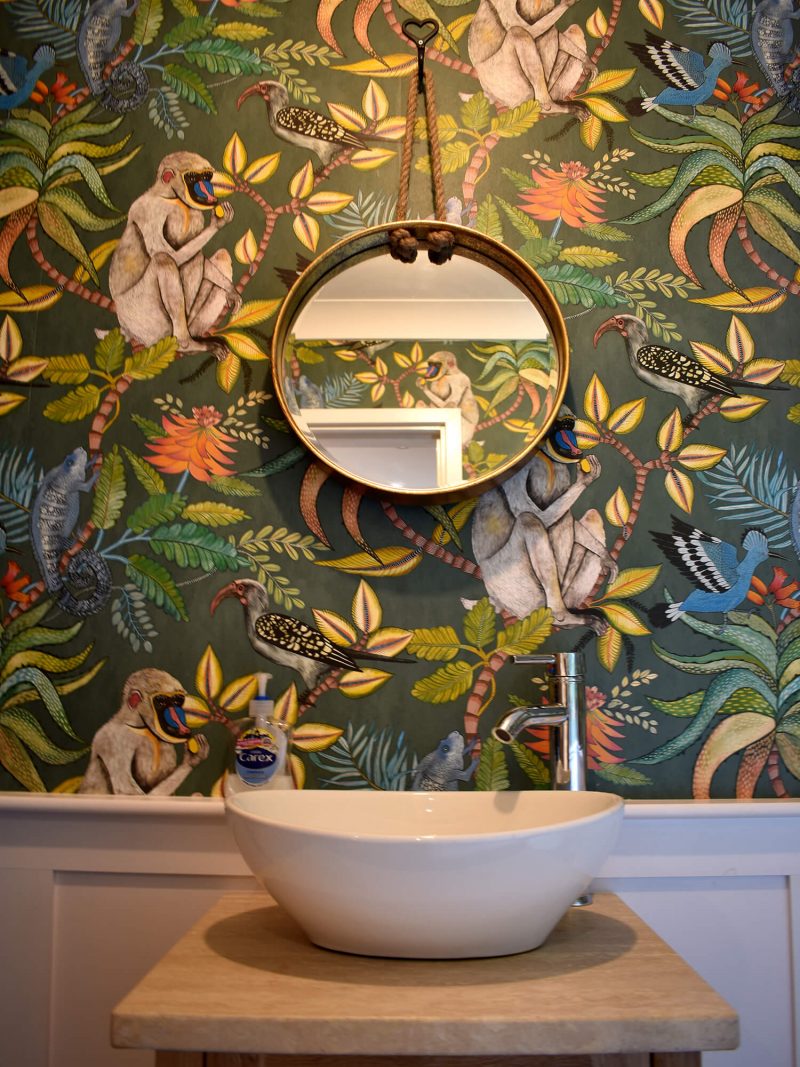 Interior Design
A cloakroom is the ideal space to go all out and be daring with wallcoverings. If you want to get your guests talking we have some unique show stopping designs that will transform the smallest cloakroom into a place you will want to spend more time in!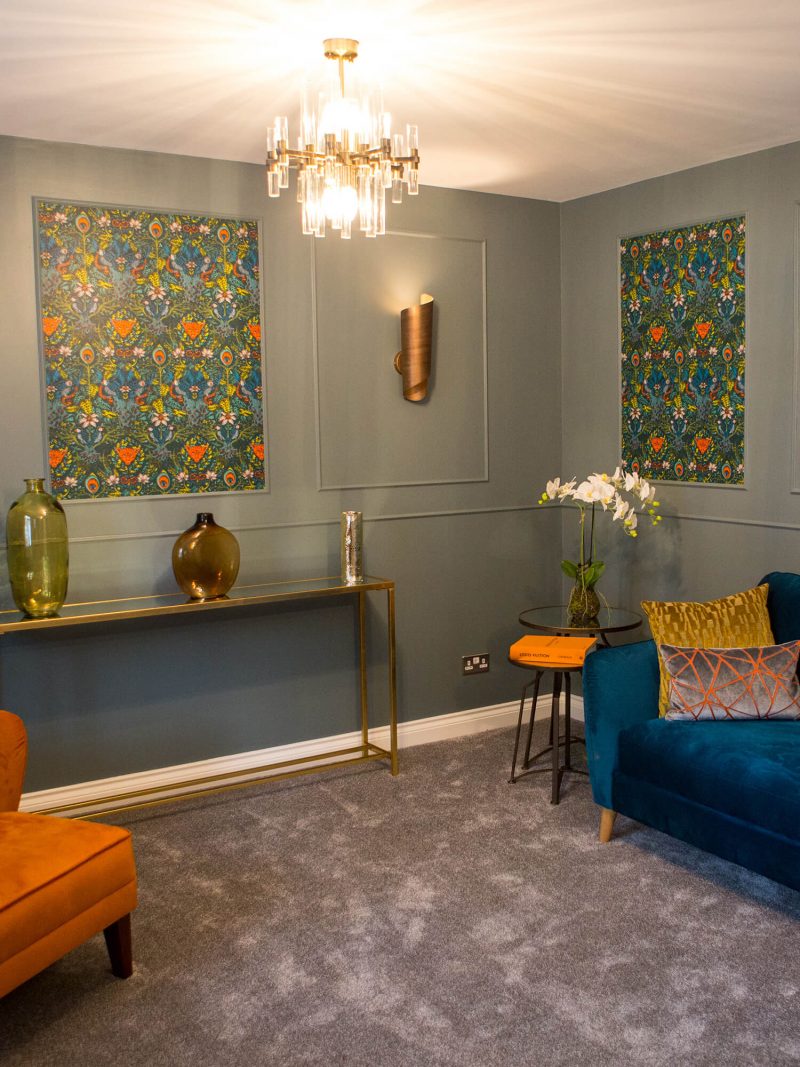 Panelling and paper
As part of this Lounge re-design, we came up with a panelling idea that would allow for a busy colourful wallpaper to subtly inject colour and pattern without dominating the room. Emma Shipley wallpaper was perfect for this clients taste and the carpenter worked to our detailed drawing and did a superb job. Finished off with Farrow and Ball De Nimes paint for a chalky moody finish.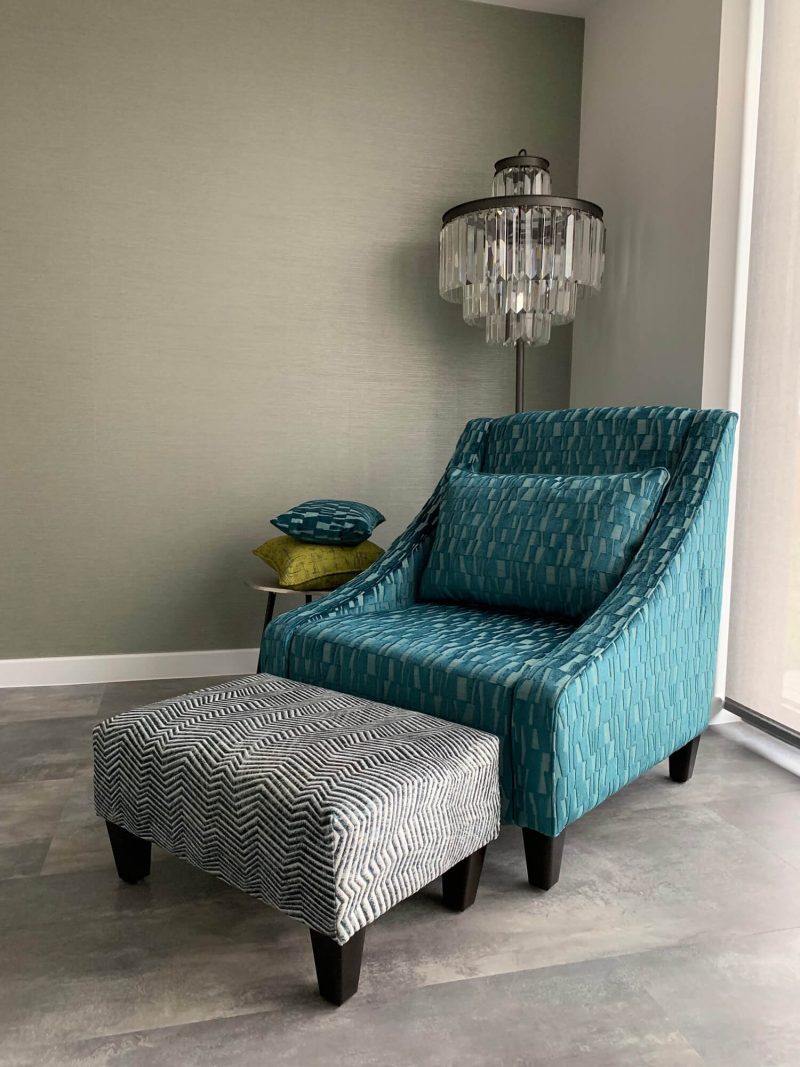 Chair and Footstool
Bespoke chair and footstool made to order in our clients chosen fabric from our vast upholstery collection. We also made matching and coordinating cushions for the sofa so the complete scheme worked in harmony together across the different pieces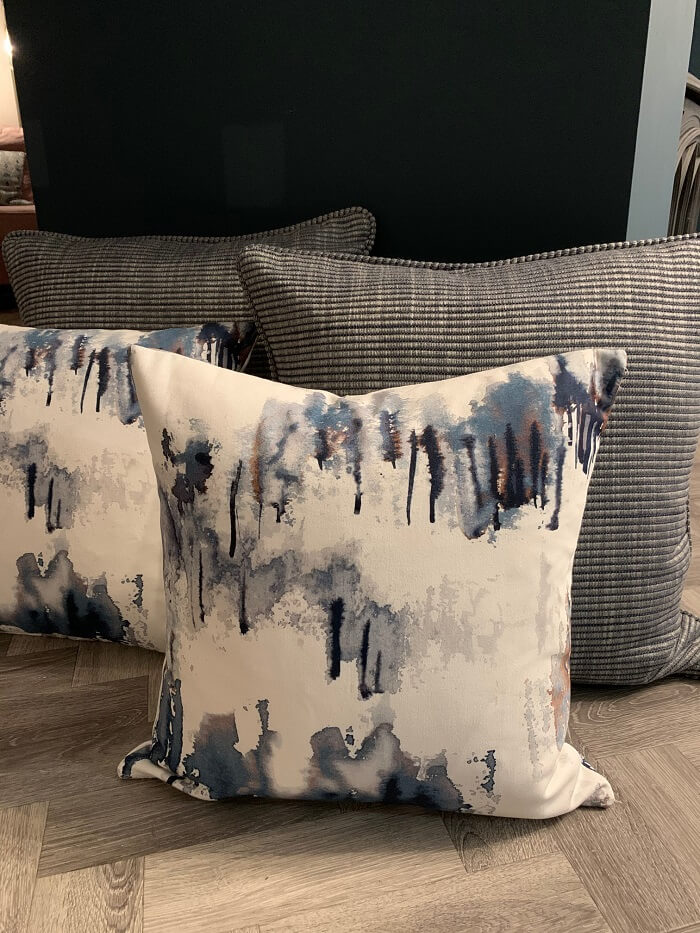 Cushions
Here we have some bespoke cushions made in Villa Nova Norland and Norland weaves. Piping detail, hidden zips with feather pads to boot make for a luxurious proud cushion collection.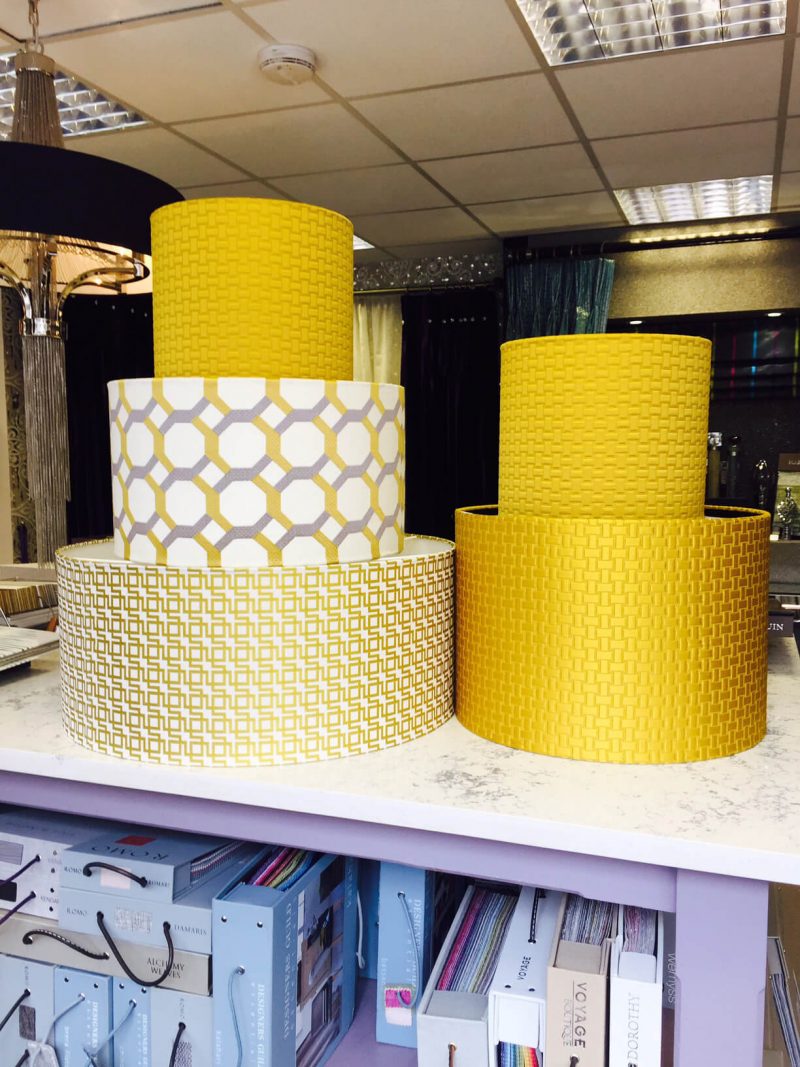 Lampshades
Here we made a selection of bespoke coordinating lampshades to dress out a new home. We followed the same colour theme throughout the bedroom into the hall stairs and landing in various sizes and fabrics to suit each space, the results were dramatic and unique.
Hot House has been delivering bespoke curtains, blinds and interiors around Bedfordshire, Buckinghamshire and Hertfordshire for 13 years, and our boutique Ampthill showroom has been open for 6 of those. Led by owner Louise, our team of 4 experts are passionate about delivering a personal service from start to finishing touches.
Whether that's Sharon who heads up our bespoke soft furnishings work room, or Mark who delivers and installs every order, to Niamh and Louise in the showroom we go above and beyond to ensure we bring our client's vision to life in the most exciting, unique way possible. Our passion for creating vibrant spaces has seen us work with some clients for over 10 years and we would love to help you transform your space.