DESIGNED TO MAKE A STATEMENT
Our made-to-measure curtains are produced to the highest quality standards, from our workroom in Ampthill.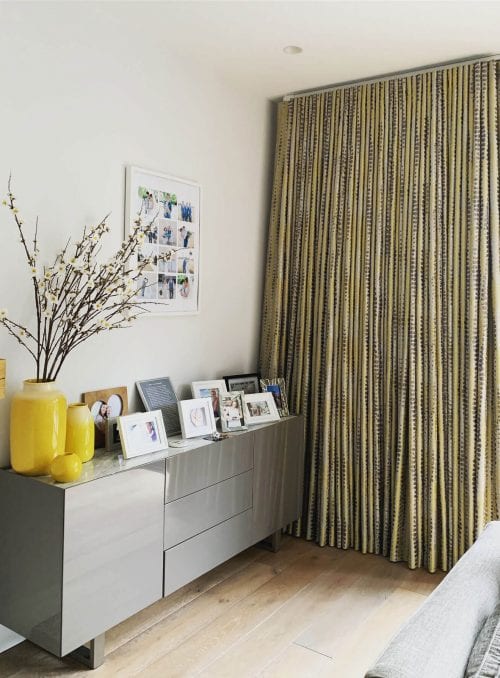 Made to order in a choice of beautiful fabrics and linings, your curtains are designed bespoke to your requirements and will be ready in just four weeks from placing your order.
You can choose from a variety of hand sewn headings and we also offer many gorgeous trimmings and modern contrast bands to create the luxurious finish you're looking for.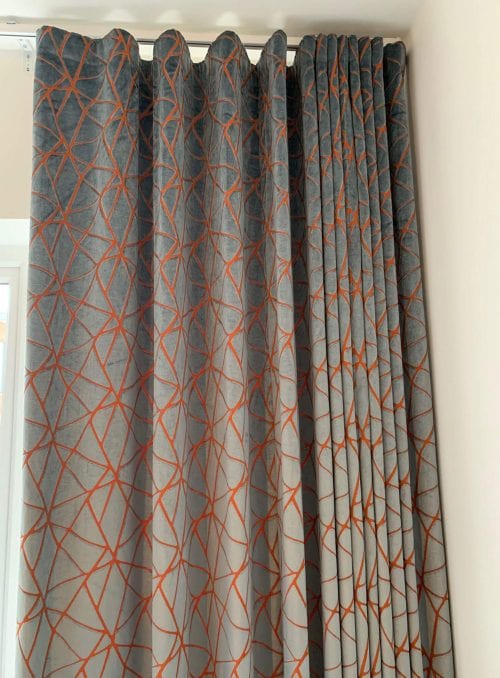 ASHELY WILDE
Ashley Wilde fabrics are a timeless collection of sophisticated prints and weaves. An affordable option with prices starting from £20 per metre they are a beautiful brand whom are well established for their plain silks and Velvets.
Black Edition
Black Edition offers exclusively designed collections infused with rich, contemporary elegance. Blends of sophisticated textures, innovative weaving techniques and artisan effects with a visionary colour palette.
Zinc
Seductive, tactile and urban, Zinc takes its inspiration from the heady heights of 1970s style. Skilfully integrated collections in a predominantly monochromatic palette with accents of vibrant colour, Zinc presents a luxe, versatile fabric range with unexpected elements that ensures the collections are refreshingly different.
Casamance
French publisher of fabrics, CASAMANCE invents the classics of tomorrow. Its collections are illustrated through colour ranges worked with the utmost finesse, varied motifs, and noble materials. The alchemy of its colours dresses architectural spaces, where a true French elegance is expressed.
Villa Nova
Founded in 1993, Villa Nova is a young and vibrant brand with the philosophy of creating modern, versatile fabrics, wallcoverings and accessories that offer affordable style.
Harlequin
If you love high fashion, Harlequin will probably steal your heart. Expect to be wowed by fusions of delicious colours, innovative textures and catwalk-inspired design.
Emma J Shipley
Emma J Shipley presents a menagerie of coordinating fabrics, imaginative hand-drawn designs and incorporating rich velvets, luxurious satins and beautifully printed cotton sateens.
Romo
An assorted library of classic and contemporary designs and versatile plains, offering a diverse style and timeless elegance enriched with a sophisticated colour palette.
Osborne & Little
Osborne & Little cherishes its reputation for innovation and quality and is as inspired and energetic today as ever, creating a constant stream of new collections that push forward boundaries.
Designers Guild
A mixture of Luxury velvets and large printed florals in the boldest of colours. The Designers Guild philosophy shines though in their beautiful fabrics, which is to combine creativity and innovation with the highest levels of quality.
Walcot Poles
Statement curtain poles beautifully engineered and hand finished in the Cotswolds. 100% British design these timeless pieces will make a stunning feature to your interior.
Trimmings
Want to add that extra special touch to your curtains, then look no further than our collection of Glass beaded and tassel trimmings, designed to transform and excite the plainest of fabrics.
Tie back
Dress your curtains to perfection in one of our stunning tie back options. From contemporary Glass options to fun Pom Poms we have a beautiful range of tie backs in a vast range of colours and sizes.
Silent Gliss Metropole
A unique wave track for contemporary curtains. A ringless system that can span up to 6 metres wide and can top fix into the ceiling for the 'hotel look'. Clean lines all the way they can have a simple flush end cap or a glass decorative finial. Available hand drawn, cord drawn and motorised the options are limitless.